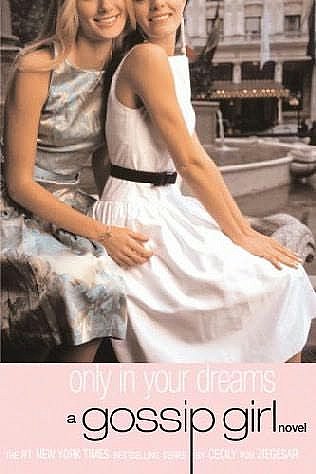 Plot
Gossip Girl doesn't have a plot, it has about a billion [5] sub-plots that all come together at the end.
In this book Serena starts work on Breakfast at Fred's, a remake of the Audrey Hepburn classic, Breakfast at Tiffany's. (The film she got the lead role in, in the previous book)
Blair is in London with her British boyfriend Lord Marcus. Is he really the love of her life? Or will she just find herself back in New York?
Nate is in the Hamptons, doing building work for the coach he stole viagra from. [Well every boy wants to graduate.]
Dan's working at a book store where he meets yoga and exercise obsessed Bree and he promptly changes everything he believes in and forgets that he decided not to go to college to be with his girlfriend Vanessa.
Speaking of Vanessa she has a terrible time in this book, she gets kicked out of her home, fired from her job and Dan cheats on her. Aaah well things can only get better for her.
I'm stating the obvious here but the writing isn't exactly groundbreaking, but then again, neither's the subject matter. However if you're intrigued about the lives of New York socialites then this is definitely the book for you.
What I do like about the writing is that the series is so easy to read. It's pretty addictive, I find it really hard to put down.
The characters aren't very likeable, they're pretty much all train wrecks. However the majority of them seem to get what they want anyway.
Jenny isn't in this one (except for a few mentions that she's at an art camp in Prague), so if you're a Jenny fan you're probably not going to like this one as much as the other ones.
An enjoyable book for when you want to read something and don't want to spend an age dwelling on it. It's just a simple novel about a bunch of naughty teens who are in need of some parental guidance.
I gave 3.5 stars in the end. It's one of my favourite Gossip Girl novels. I'd recommend it to fans of the TV series as well as fans of books like this.